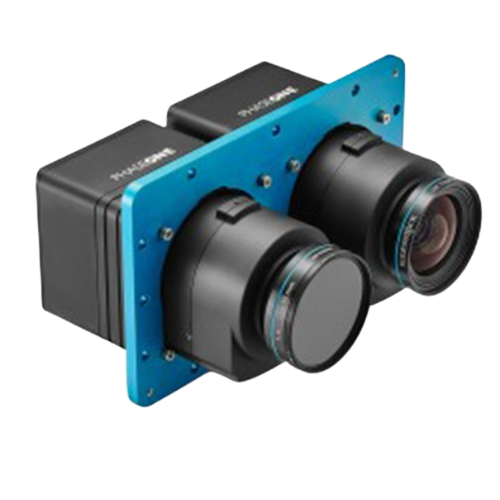 Pickett prides itself as staying on the leading edge of technology. Our newest acquisition is the iXU-RS 1000 digital camera by Phase One. This camera has earned a world-wide reputation and is used in infrastructure monitoring and inspection, various sized mapping projects, corridor mapping, LiDAR mapping, urban mapping and for the capturing of orthorectified imagery.
The iXU-RS 1000 is a high-resolution camera system consisting of two 100MP medium-format CMOS metric cameras, to provide a fully automatic solution for capturing and processing distortion-free 4-Band multispectral imagery. This Phase One camera system captures Near Infrared (NIR) and Red, Green and Blue (RGB) light. The separate images captured by the NIR and RGB cameras are then merged together in post processing software to create a color infrared image for enhanced analysis.
Phase One's technical description of the camera system reads "The 100MP cameras specifications include: pixel size of 4.6 µ, very high image capture rate -1 frame every 0.6 seconds, exposure time of up to 1/2500, a set of metric lenses with different focal lengths (50, 70, 90, 110, 150 mm). This provides an effective solution in many areas of aerial mapping, monitoring and object inspection".
As one of the first surveying firms to incorporate flight operations to complement our expert ground survey capabilities, we have more than 20 years' experience providing accurate and reliable airborne deliverables. We can acquire, process and deliver virtually any format of digital imagery or Light Detection and Ranging (LiDAR) data to clients across the US and the Caribbean.
Pickett's precision driven aerial mapping solutions are essential to electric and gas utilities, mining, transportation and the solid waste industry as well as government and environmental agencies, land developers, floodplain managers, and architecture and engineering (A/E) firms.
Airborne industry functions include: As-builts; Route planning/selection; NERC compliance; Vegetation management; Environmental assessments; Material volumetrics; Topographic mapping; Floodplain modeling; and GIS base mapping/imagery.
Airborne services and deliverables include:
Data acquisition
Data fusion
Classified LiDAR data
Digital ground surface modelsDigital terrain models (DTM)
Digital elevation models (DEM)
Raster DEM
Contour generation
Topographic maps
Volume computations
PLS-CADD models
Impervious surface mapping
Orthorectified imagery
Historical photo rectification
Expert witness testimony
With an increasing demand for aerial imaging, Pickett is prepared to remain a leader in the field. To learn more about Pickett's airborne services and how they can fill your unique needs, email us today at info@PickettUSA.com, or give us a call at 813-877-7770. We look forward to hearing from you! Also, check out our website to learn more about all the services we offer.